Review from David @ DTHROG SKA Review


SUNDAY, AUGUST 1, 2010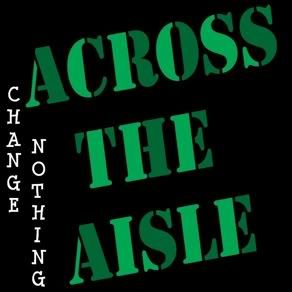 Across The Aisle
(ATA) is a ska and punk influenced band from New York City. They have a fairly standard ska lineup featuring guitar, bass, drums, trumpet, and saxophone. Megg Howe brings a unique element to their sound with very powerful vocals. There is some resemblance between Megg's voice and
Monique Powell
formerly of
Save Ferris
. Both singers can really belt out the vocals with a powerful stage presence and plenty of vibrato.
"Change Nothing" is Across The Aisle's recent release and is the follow up to 2008's debut
"The Mercy EP"
. ATA mixes a ska influenced sound along with elements of punk usually with heavier choruses. The bass lines tend to be more punk influenced and aggressive than the walking bass lines that are sometimes found in ska. Backup vocals are common throughout the EP and there is a great depth of sound and multiple layers. You can hear the New York City influence throughout.
"The Elephant" leads off with a horn riff introduction before a driving verse. The song is about uncomfortable situations and the elephant in the room. There's a really good pre-chorus at 0:33 with plenty of accents beats. The driving beat throughout should keep the live crowds moving.
"Everybody Lies" starts much slower with dual vocals backed only by the drums before the guitar starts playing an arpeggio lead riff. The whole band joins in for the verse. The chorus is much more upbeat with punk style power chords. The chorus is catchy and again should keep the crowd moving.
"Born Dirty '09" is an interesting track instrumentally because it begins with a drum fill and just bass guitar by itself before the guitar and horns trade off melodies. The song then moves to the verse with a stripped down ska guitar strum central in the mix. The pre-chorus is heavily accented. I like the backing vocals in the chorus.
I like the two-tone inspired guitar sound to the introduction in "Roots". The song talks about your hometown growing up. The verse is laid back and heavily ska influenced before an urgent and upbeat sound in the pre-chorus and chorus.
I'd recommend this release. It's unique in some respects because it's not just a pop ska album, or a skacore album, or a girl vocal ska album either. It's a mix of all of those things with a greater depth of sound than you may expect, especially from a young ska band. The depth of sound should give it staying power.
Currently, the best place to find the album is at ATA shows. It will soon also be released through CDBaby and iTunes. You can catch an
excellent interview
with Megg and Jay over at
Duff Guide to Ska
as well as a review of their
previous release
.